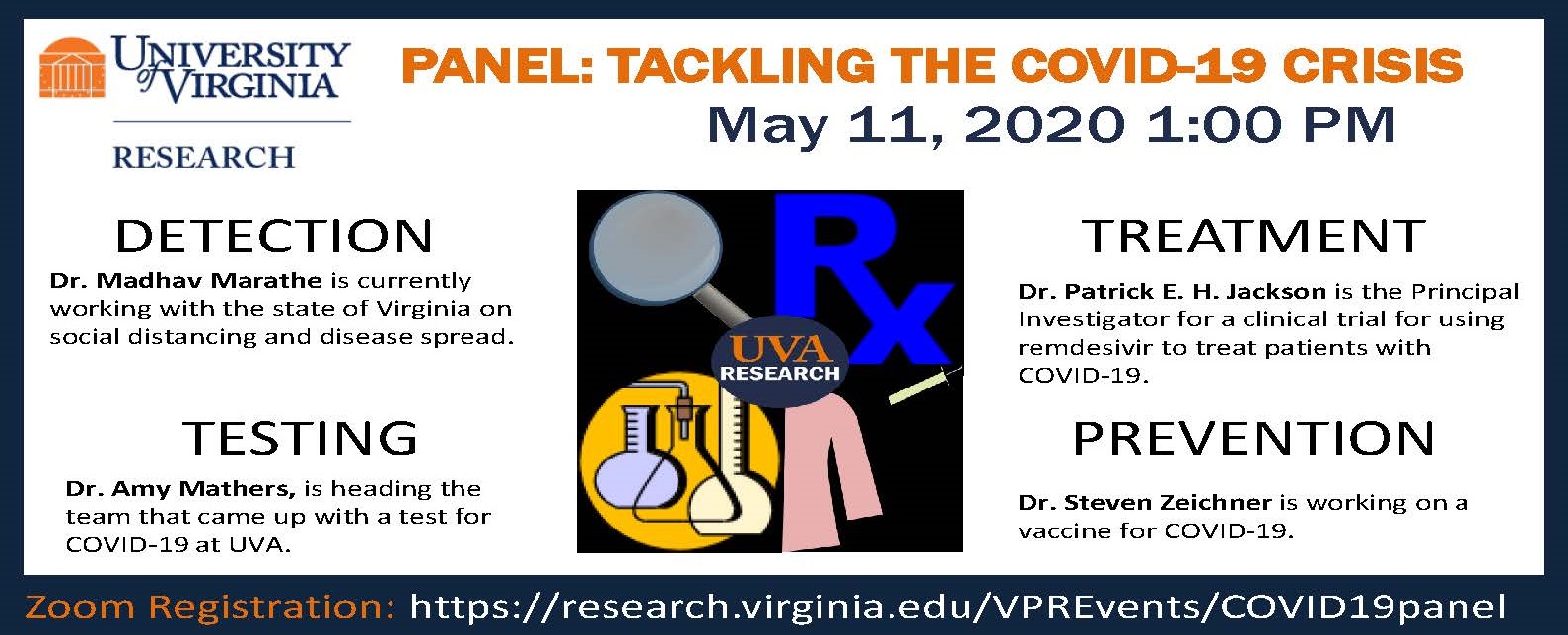 A virtual panel discussion with UVA COVID-19 Researchers was held on Monday, May 11
COVID-19 pandemic has upended life as we know it around the globe. UVA researchers are meeting the challenges of the virus through their expertise in detection, testing, treatment, and prevention. A select group of UVA's top researchers spoke on May 11 about what they're doing, and answered questions about what's next. 
Melur "Ram" Ramasubramanian, the Vice President for Research at UVA, moderated the discussion with Madhav Marathe, Engineering/Biocomplexity; Amy Mathers, Patrick E. H. Jackson and Steven Zeichner, School of Medicine.
Panelists:
Dr. Madhav Marathe is an endowed Distinguished Professor in Biocomplexity, Director of the Network Systems Science and Advanced Computing (NSSAC) Division, Biocomplexity Institute and Initiative, and a tenured Professor of Computer Science at the University of Virginia. His areas of expertise are network science, artificial intelligence, high performance computing, computational epidemiology, biological and socially coupled systems, and data analytics. He is currently coordinating the Institute's modeling and analysis efforts related to COVID-19 pandemic. The modeling group is supporting the state of Virginia and other federal agencies in their planning and response efforts to control COVID-19 outbreak.
Dr. Amy Mathers, Associate Professor of Medicine and Pathology, Division of Infectious Disease and International Health at UVA. Her expertise in tracking bacterial DNA sequences has advanced the understanding of where antibiotic-resistant pathogens originate and how they spread in even the most sterile places like hospitals. She headed the team that came up with a test for COVID-19 at UVA.
Dr. Patrick E. H. Jackson, Assistant Professor, Medicine: Infectious Diseases and International Health, provides treatment, counseling and education for patients with HIV and AIDS in the UVA Ryan White HIV Clinic, and provides general infectious diseases care. He is a virologist in the UVA Myles H. Thaler Center for AIDS and Human Retrovirus Research. He's the Principal Investigator for a clinical trial for using remdesivir to treat patients with COVID-19.  
Dr. Steven Zeichner is a Professor of Pediatrics who studies infectious disease pathogenesis and works to develop new therapies and diagnostics for infectious diseases and cancers. He is working on a vaccine for COVID-19.
Moderator:
Dr. Melur "Ram" Ramasubramanian is the Vice President for Research at UVA. Formerly the Program Director for the Engineering Research Centers program at the National Science Foundation, he has also held prior appointments as the Chair of Mechanical Engineering at Clemson University, and Professor of Mechanical and Aerospace Engineering at North Carolina State University. His research interests are rooted in interdisciplinary applications and include mechanics of manufacturing processes and short fiber composites, bio-manufacturing and tissue engineering.