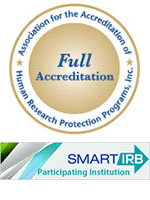 As part of the Human Research Protection Program (HRPP) at the University of Virginia, the Institutional Review Board for the Social and Behavioral Sciences (IRB-SBS) is the IRB responsible for reviewing all non-medical behavioral human research (studies which are considered medically non-invasive) for compliance with federally-mandated research guidelines. Review of human subjects research is required for funded and non-funded research and for research conducted by faculty, students, and all those under the purview of the University of Virginia.
Looking for the IRB-HSR (the IRB responsible for reviewing all medical human research)? Visit their website: https://research.virginia.edu/irb-hsr
UVA's Human Research Protection Program advises researchers to follow UVA's COVID-19 prevention policies while conducting human subjects research. These policies, including wearing masks, are described on UVA's COVID-19 site.
Please note: If you have recently opened this page, you may need to clear your browser cache to see the most recent updates.