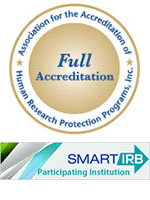 As part of the Human Research Protection Program (HRPP) at the University of Virginia, the Institutional Review Board for the Social and Behavioral Sciences (IRB-SBS) is the IRB responsible for reviewing all non-medical behavioral human research (studies which are considered medically non-invasive) for compliance with federally-mandated research guidelines. Review of human subjects research is required for funded and non-funded research and for research conducted by faculty, students, and all those under the purview of the University of Virginia.
Looking for the IRB-HSR (the IRB responsible for reviewing all medical human research)? Visit their website: https://research.virginia.edu/irb-hsr
NOTICE:  Using large language models (LLMs) like Chat GPT, Bing, Bard, Claude, etc. for any purpose in the development, conduct, analysis or publication of human subjects research must be approved by the IRB prior to implementation.
Announcements:
iProtocol has been updated! There are two new sections related to multi-institutional research:

New Section: IRB of Record (non-UVA Institution)
New Section: non-UVA Institutions (in the United States)
Student Support: Need Student Support? Drop in: Thursdays, 2-4PM, Room 230, Georges Student Center, 2nd Floor Clemons, or by appointment, please see the event calendar for the current schedule.
Electronic Consent: Check out our updated guidance on Electronic Consent, electronic signatures, etc. In addition, check out our updated consent templates in Consent Templates. 
Note on the Meeting Schedule: Not all studies require Full Board Review for approval.  Many studies qualify as minimal risk and can be approved by the IRB Chair or designee on a rolling basis.  To learn more, see the Activities that Require IRB-SBS Review and Protocol Review Process pages.
UVA's Human Research Protection Program advises researchers to follow UVA's COVID-19 prevention policies while conducting human subjects research. These policies are described on UVA's COVID-19 site.
If you have recently opened this page, you may need to clear your browser cache to see the most recent updates.