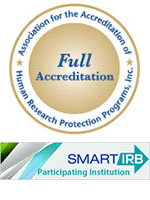 As part of the Human Research Protection Program (HRPP) at the University of Virginia, the Institutional Review Board for the Social and Behavioral Sciences (IRB-SBS) is the IRB responsible for reviewing all non-medical behavioral human research (studies which are considered medically non-invasive) for compliance with federally-mandated research guidelines. Review of human subjects research is required for funded and non-funded research and for research conducted by faculty, students, and all those under the purview of the University of Virginia.
Announcements:
Need to change UVA personnel listed on your iProtocol? Use the new Personnel Management Tool which allows you to change UVA personnel without submitting a modification. Do not submit a modification to change personnel unless you have been notified that your protocol doesn't qualify for the Personnel Management Tool. 
All new protocols must submit using iProtocol. iProtocol Text Boxes is a Word doc with all of the iProtocol text fields; it can be useful if you prefer to type larger passages in Word and then paste them into the iProtocol fields.  
Looking for templates to create consent forms, notification letters, etc? Check out Consent Templates. 
Pardon our dust; we are rebuilding our site on a new platform. Some links may not function properly but check back as they will be operational shortly.