Frequently Asked Questions:
Are new or revised ramp up plans required for Phase III?
In Phase III, ramp up plans are no longer required.
Are there any provisions for people that tested positive for COVID but may not have been vaccinated?
No. If you have tested positive, you are exempt from testing for 150 days, but still required to get vaccine.
I am a PI of a Research Plan, but I am not coming to Grounds, can I not test?
If the research plan is in your name and you are not coming to Grounds. Please send an email to AskResearch@virginia.edu and we can place you on our exempt list as it is not possible remove yourself from the plan. If others on your plan are not coming to Grounds, please remove them and have them test before adding them back to your plan.
What kind of test is UVA's saliva test? Is it a PCR test? How accurate?
The University of Virginia saliva screening is a diagnostic PCR test. Like nasal swab tests, the saliva tests are based on PCR technology, which amplifies small amounts of viral genetic material to facilitate detection. 
Saliva screenings have an 88.6% percent sensitivity rate, meaning that if 100 people positive for COVID-19 do the saliva screening, it will only detect 85 of those cases. This is very similar to the sensitivity for mid-nasal swab test. Our saliva screening is 97.2% accurate. This means that if we did the saliva screening, and then tested the same person with a mid-nasal swab tests, the results would match 97.2% of the time.
Do I still need to do the prevalence testing if I have received a vaccine?
No, if you have had the 2nd shot of your vaccine more than 2 weeks ago, you do not have to do prevalence testing.
I am on quarantine or tested positive should I come in and test?
No. If you are in quarantine you should stay in quarantine until it ends. Once it ends, you should test before returning to the lab.
The duration of isolation for 10 days is based on the fact that most people are not contagious after 10 days of symptoms (with resolution of fever and improvement of symptoms). People who experience severe symptoms may need to isolate for up to 20 days. Studies have shown that people who have had COVID-19 infections can shed virus at low levels for months after infection, but are not contagious to others. And thank goodness! This allows people to return to work and school after the above timelines. Source: CDC 1 + CDC 2
*YOU DO NOT NEED TO TEST THROUGH UVA'S PREVALENCE TESTING IF YOU ARE CURRENTLY IN ISOLATION OR QUARANTINE .
If you have had a positive COVID test in the last 90 days, then you do not need to be retested at this time. Please email AskResearch@virginia.edu with the date of your positive result, name and computing ID. We will put you on the exempt list for 90 days.
Do personnel who were not planning to come to grounds in a given week still required to come in just to get tested (i.e., even if they were not planning to come in)?
Yes. Anyone listed on the personnel list will need to test. We need to know who is coming to Grounds at any given time. This is the only way we have of tracking it at this time.
Do I need to update our schedule for every week's planned group of in-person workers? That is, if someone is NOT coming in, am I required to update my schedule to remove them for that week, or can I maintain a "worst-case" schedule?
Yes, you will need to update your personnel list for each week. We realize this causes extra work, but it is our best option to know who is on Grounds in our labs at any given time. If they are in your listed personnel and not on your schedule, they will still show in our list of approved to come to Grounds list.
How can I find the times and locations to get a saliva test?
Visit our webpage: https://besafe.virginia.edu/   We are keeping this page up to date. Please check on the day you plan to go to the site. Two of the sites are outside and there is parking available at most locations.
If I am on a research plan, but not coming to Grounds, can I not test?
If you are on a plan you need to test. If you are not coming to Grounds you need to be removed from the plan. To return to Grounds, you would need to test and be added back into the plan.
What if a member of the lab is not in town or unable to come to grounds for whatever reason? How do these rules apply to them?
Ideally remove them from the plan and then add back the following week. If they are only out of town one or two days, they should still be able to test and actually have more reason to so so because of the travel. If they are on a plan, and gone the entire week, it will save us tracking them as not testing, chasing the PI, and documenting or verifying they were actually not here to avoid penalty.
If a person came in one week, but not the next week, does the schedule of testing from twice a week to once a week get altered in some way?
If a person is on an approved research plan, they must do the twice a week prevalence testing (once a week after February 1st) regardless of how many times they come into the lab. 
How do I update my ramp-up plan?
Just go back to the submission webpage, click on the plan, walk through steps adjusting information as needed. The last step before you submit, "Request Notes" has a drop down and text box where you can indicate your changes. This will help the reviewer know what changed without re-reading entire application.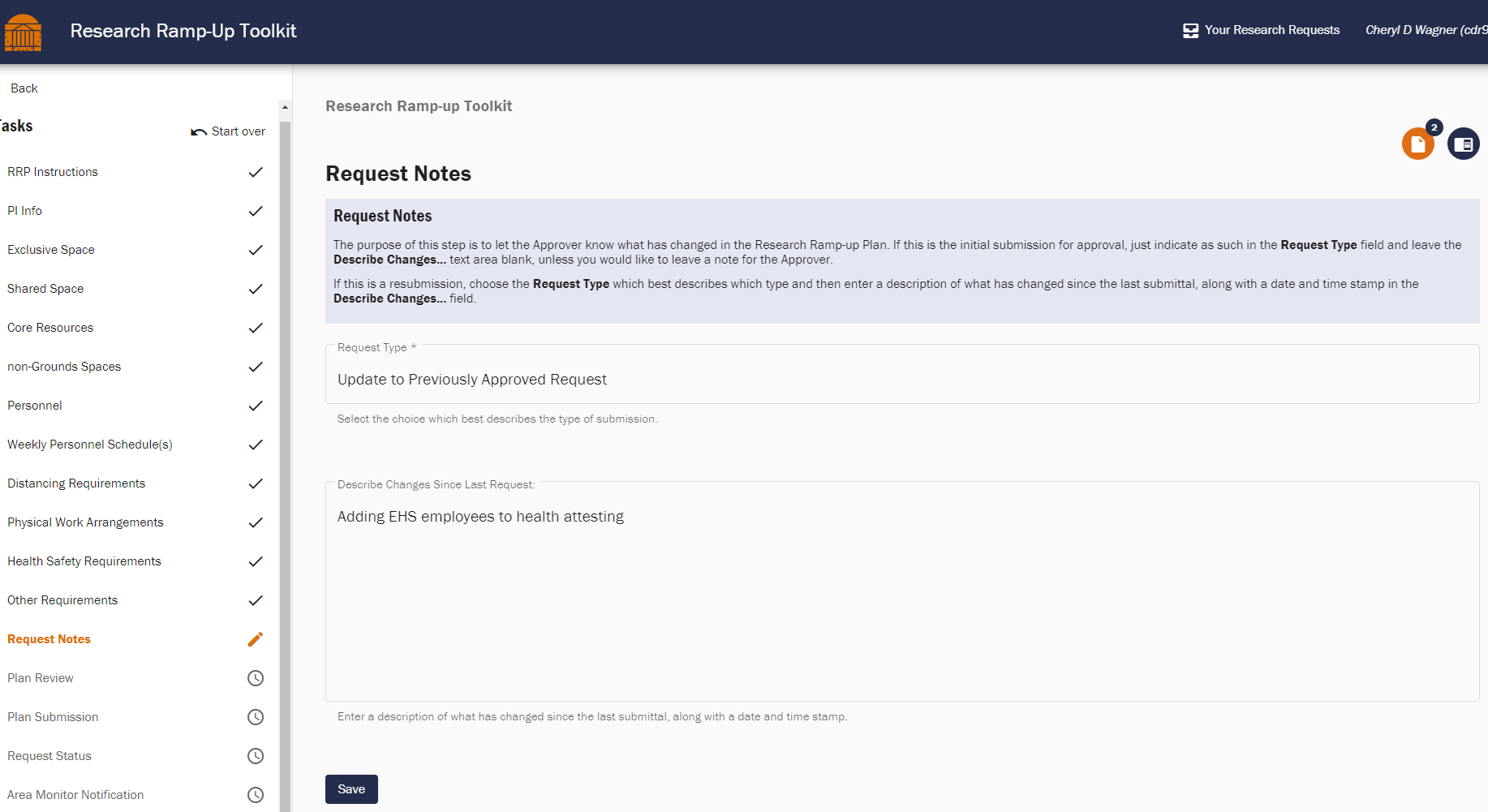 I am a graduate student and I started working in the laboratory in June as part of research ramp-up. I am already on Grounds. Should I now self-quarantine for 14 days AND get tested?
Assuming you self-attest health daily, sign in and sign out of the lab/research space for which you are authorized to be in, have taken the COVID-19 safety training, follow handwashing and lab space cleaning protocols, and wear face covering all the time in the lab. Should I now self-quarantine for 14 days AND get tested?
Follow the guidance for "If a student is unable to self-quarantine…" in the guidance from the Provost which states: "If a student is unable to self-quarantine, it is essential that the student minimize contact with others during this 14-day period. Specifically, the student should not attend any large social events or interact with more than a few people (three to five) at a time. Students should be vigilant in physical distancing (maintaining at least a six foot distance between the student and others), using a face covering, washing hands frequently, refraining from touching their face (especially eyes, nose, and mouth) without washing hands first."
On testing, the answer is YES even if you are already on Grounds. The Protocol states: "Mandatory Testing. All undergraduate and graduate students who plan to be on Grounds this Fall will be required to submit a negative COVID-19 viral PCR test result to the University prior to their return. Students who do not comply with this requirement will not be able to return to Grounds." Since you are already on Grounds, working, and asymptomatic, follow the instructions for getting tested when you receive the notification.
The protocol instruction states, "In the coming weeks, students will be notified of test availability and will be directed to an online portal that will provide instructions for ordering kits and returning them after use." You may continue to work as long are you are asymptomatic and follow research ramp up guidelines while you comply with mandatory testing.
I am already registered and receiving daily health attestation notices as part of research ramp-up. Do I need to do anything when the new HOOS Health Check app comes out that is intended for all students, faculty, and staff?
"Daily Health Check. All students, faculty, and staff planning to be on Grounds will complete a daily check on symptoms related to COVID-19 through the HOOS® Health Check app or by email. The HOOS® Health Check app is designed to make individuals aware of their symptoms, to encourage personal responsibility, and, if the individual exhibits symptoms, to provide resources and next steps for testing. Instructions for downloading HOOS® Health Check will be provided in mid-August."
-YES. We are not able to automatically enroll the researchers or health system members currently receiving the health attestation email into the new system. When you receive the notification on the app's availability, researchers will need to sign up individually.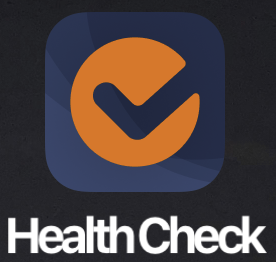 I have already taken the EHS COVID-19 safety training before returning to the lab during research ramp up. Do I need to take the training that is offered through Human Resources?
"All those returning to Grounds, including all students and employees, will complete a training module that provides key information about what is necessary to mitigate the risk of spreading COVID-19. At the conclusion of this training, all students and employees will be required to acknowledge the risks presented by the virus and agree to abide by these important safety protocols."
-YES. New return to Grounds training is available through HR. When available ALL employees need to take this new training. This includes the research community members that completed the required EHS training developed as part of the research ramp up process. The new training is similar, but must be completed. Future research ramp up plans will need to only take the new HR training for qualifying to return to the lab or research space.
Ramp-Up Plan FAQs
What if I need to change information on my submitted plan?
It needs to be back to you (if you submitted for approval, they need to approve/decline it back to you for you to make changes). Go back into the system, click on your plan. Click the "start over" at the top. It should keep your previous information, but tells the system to reset. update needed fields, hitting save on each page. If you hit submit before page is fully loaded, you get an error. click on the right menu where the pencil is to continue. submit plan at end and it should go to approver.
What if I can't submit my plan right away?
We will continue accepting submissions and review them as they are received. 
Do I need to submit a plan to continue my work remotely?
No. We only need plans from PIs who are actively seeking permission to ramp up their research that can only take place on Grounds.
Do School of Medicine faculty have to submit plans?
Yes – if the lab is in a University of Virginia space. 
Do faculty who do human subjects research need to submit plans?
Yes, anyone requesting to return to Grounds needs to submit a plan.
Should PhD students conducting on-Grounds research fill out ramp-up plans?
No. Only faculty PIs should submit ramp-up plans and include graduate students in their plan.
What will the process for plan revisions look like?
Once your plan has been approved or declined you can edit any field. Please start at the beginning of the pllan, make any edits, saving each page. Please add comments in box before submitting so your supervisor will know what you changed without reviewing entire plan. (eg. updated schedule, added personnel Cheryl Wagner cdr9c)
What supplies will be provided centrally and what do I need to order?
Researchers order PPE or other supply needs through Procurement COVID Supplies Guide.
We envision Emergency Management's team handling distribution to non-research departments.
We are awaiting news from procurement regarding disinfectant wipes - the most difficult supply at this time. 
As indicated by VPR, researchers who return to Grounds are expected wear face coverings at all times when inside buildings. 
Personnel may use personnel face coverings as indicated by CDC recommendations, or may use disposable surgical masks. Additional UVA guidance can be found here. 
Disposable masks are available through the Office of Environmental Health and Safety (EHS) or UVA Emergency Management (UVAEM). 
UVAEM anticipates that centrally procured cloth face coverings will be available to each member of the UVA research community by June 8, and information will be forthcoming.
Handwashing is critical. Most laboratories are equipped with sinks for hand washing, but ethanol based hand sanitizer that contains at least 60% ethanol may be used if sinks are unavailable. 
UVA Custodial Services will be installing additional hand sanitizer dispensing stations within research buildings prior to June 1. 
UVA has centrally procured a number of 1G hand sanitizer dispensing stations to aid the research community in adhering to hand hygiene measures.
Schools will coordinate distribution for 1Gal hand sanitizer stations, EHS and FM will handle the distribution.
All other COVID-19 safety supplies to be ordered locally. 
What should I do if I develop signs or symptoms of COVID-19?
June 3, 2020
Symptoms of COVID-19 include:
Fever of 100.0¡ F or higher
New, different, or worsening cough from baseline (but not an isolated cough at baseline with no other symptoms)
New or worsening shortness of breath from baseline
Diarrhea as the start of symptoms in conjunction with at least one other systemic or respiratory symptom, including:

Sinusitis, pharyngitis
Myalgias, fatigue, loss of appetite

Anosmia (loss of sense of smell) with at least one other systemic or respiratory symptom, including:

Sinusitis, pharyngitis
Myalgias, fatigue, loss of appetite
If you develop one or more of these symptoms, call Employee Health at 434-924-2013, Monday – Friday between 8 am – 4:30 pm.  Employee Health will conduct triage and screening and, if indicated, facilitate COVID-19 testing.
If you are an unpaid student, call Student Health at 434-924-5362.
If you feel you are dangerously ill and need immediate medical attention, you should seek medical care from your PCP, a prompt care clinic such as Med Express, or go to the Emergency Department.
What should I do if I'm exposed to someone who is known to be positive for COVID-19?
June 3, 2020
If you have contact with a confirmed COVID-19 positive person (i.e. the source) as part of work or student activities at UVA, you must satisfy the following criteria to be considered at medium or high risk for COVID-19: 
Contact must have lasted for a specific amount of time

3 minutes or more in Health System settings
15 minutes or more in other settings (as recently updated by the CDC)

Contact must have been within 6 feet
Contact must have been without adequate protection. If the source is masked, then your risk is low. If the source is without a mask, then your risk may be medium or high depending on whether you have or do not have a mask on, respectively.
While low risk contacts do not require further evaluation, medium or high risk contacts require further investigation. If you are a UVA employee or paid student, call UVA Infection Prevention and Control by dialing 434-924-0000 and ask the operator to page 1883. If you are an unpaid UVA student, call Student Health at 434-924-5362.
If you have contact with a confirmed COVID-19 positive person (i.e. the source) outside of your UVA work or student activities on Grounds, the criteria for exposure will be determined by the Health Department (434-972-6219).
If you have a low likelihood exposure, you do not need to call anyone, but you should monitor yourself for signs and symptoms of COVID-19, including fever > 100.0¡ F, cough, or shortness of breath.  For more information, please visit: https://www.cdc.gov/coronavirus/2019-ncov/symptoms-testing/symptoms.html
What should I do as a supervisor/manager if I have an employee or student confirmed to be positive with COVID-19?
Where will I park when I return to work?
Parking restrictions have been lifted throughout Central, West, and North Grounds (but have not  been lifted at the Hospital) through August. 
Charlottesville Area Transit (CAT) is operating at a "lifeline" status. with reduced service. Fortunately, that means the Trolley, Route 7 and Route 5 are running (Trolley and 7 serve UVA directly from downtown and 29N, Route 5 services Commonwealth Drive gets as close as Barracks Road). Effective 6/1, the time between buses is 20-30 minutes on those routes.
JAUNT is running their commuter CONNECT routes from Crozet, Buckingham, Forest Lakes, and Lovingston.
Both CAT and JAUNT are fare free right now. Both services are requiring face coverings and have reduced seating capacity.
Can plastic face shields that cover the entire face, including the sides, be used in place of a face covering/mask?
No. At this time, studies have not demonstrated that face shields are a suitable substitute for masks. CDC does not recommend face shields to prevent COVID transmission. Note: for certain BSL2 procedures, disposable surgical masks are advisable over cloth face coverings due to risk of contamination. Some examples are posted on EHS CV19 mask comparison page: http://ehs.virginia.edu/urgentnotice.html
As an Area Monitor, What Are My Responsibilities
Area Monitors are responsible for the following:
Primary point of contact

This means a boots on the ground person that if we have a problem or question, we can contact that person to go look at something or ask a question, etc.

General reporting of issues

This means someone who will be in the area, if they have concerns or items arise that need attention, they can report it. Does NOT mean responsible to specifically go looking for or auditing labs for violations.

Public areas reporting

This means if they have a public space such as bathrooms, coffee area, etc. They should report issues of concern.
Basically, we are hoping you will be a boots on the grounds person. If we have problem or concern in your area we would reach out and ask you to go look at something or perhaps provide us some information.  Ideally, also help remind folks in your areas to follow the required safety guidelines (e.g. reminder need to wear your face covering) or if you see a problem in your area report it so we can follow up.
UVA Policy on Use of Face Coverings to Prevent the Spread of COVID
UVA has a policy requiring the use of face coverings on Grounds see Face Masks, Physical Distancing, Social Gatherings, and Enforcement policy SEC-045.

The most important way to protect yourself and others from COVID-19 is by staying home as much as possible and staying at least six feet apart from others when in a community setting. The CDC and VDH recommend wearing a face covering over your mouth and nose when it may be difficult to distance, as it is possible to spread COVID-19 to others even if you do not feel sick. To reduce spread of COVID-19, the UVA Research Community is expected to wear face coverings when inside UVA buildings.

Many members of the University community have already purchased or made their own personal face coverings, and you are encouraged to provide your own face covering wherever possible. The University is working to obtain cloth face coverings for personnel who need them, and a limited supply of disposable face coverings is currently available. Research department managers can request disposable face coverings through UVA Environmental Health & Safety. Non-research departments should contact UVA Emergency Management to request disposable face coverings.
There are instances where it is not required or may not be appropriate to wear a face covering:
When a person is in a personal office (a single room with a closable door) and others are not present and coworkers do not regularly visit
Individuals who have been advised by a medical professional not to wear a face covering due to trouble breathing, being incapacitated, or otherwise unable to remove a face covering without assistance. In such instances, contact your HR manager to arrange for accommodation.
Instances where wearing a face covering creates a safety hazard at work under established health and safety guidelines. For example, performing procedures where a surgical mask is required as PPE to protect the individual from exposure to potentially harmful materials, a cloth face covering should not be worn; instead, use a disposable surgical mask. Similarly, consideration should be given to the appropriateness of cloth face coverings in environments where flame resistant materials are employed for safety.
While eating or drinking
For clarity, wearing a face covering is only one tool for reducing the spread of COVID-19, and doing so is not a substitute for physical distancing of at least six feet, and frequent hand washing.

For additional information on wearing a face covering, donning, doffing, storage, laundering, and disposal, refer to CDC.gov. Contact your supervisor or UVA Environmental Health and Safety (ehs.virginia.edu) with questions. See additional face covering information here. 
How will laboratory areas be disinfected should there be COVID diagnosis of research personnel?
Due to the unique hazards and specialized equipment in research spaces, laboratory personnel are responsible for cleaning and disinfection of laboratory areas. Alternatively, Service Master Restore of Charlottesville (434-293-3366 or 434-422-6401) is available to provide professional laboratory cleaning and disinfection services. 
Departments should contact the vendor directly to coordinate services and provide a departmental issued purchase order.
EHS has published guidance for laboratories who wish to perform the disinfection themselves.
Timing & Access Restriction
Immediately close off any rooms known to be occupied by COVID-19 positive person(s) within the previous 48 hours.

Post signs alerting others that room(s) is closed to entry until further notice.

Wait 24 hours, or as long as practical, prior to engaging in cleaning and disinfection.

CDC guidance as of

10 Septem

ber

 

2

020 states: if more than seven days have passed since person confirmed to have COVID-19 has been in the space, additional cleaning and disinfection is not necessary.