2023 Rath Award winner: Spencer Tassone
Image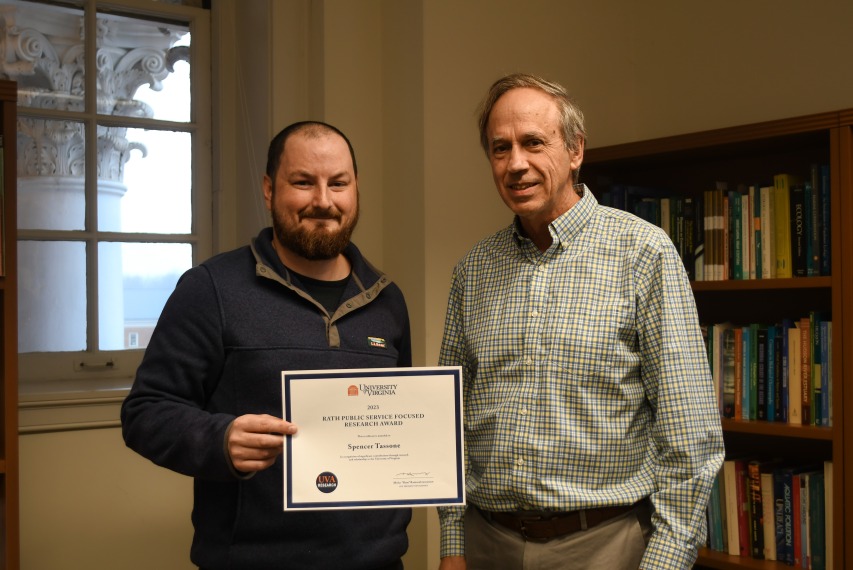 Spencer Tassone, a UVA graduate student in Environmental Sciences in the College of Arts and Sciences, is the 2023 winner of the Bhakta Rath Research Award. His research is on riverine heatwaves, extreme water temperatures sustained over several days, and he is working to identify distributions and trends on where the heatwaves are most likely to occur, supported by his advisor Michael Pace, W.W. Corcoran Professor of Natural History.
The Bhakta Rath Research Award, established in 2022 by a gift from Dr. Bhakta B. Rath and his wife, Sushama Rath, offers an opportunity to promote and reward excellence in Public Impact Research (PIR) for graduate students or postdocs and their collaborating UVA faculty member. The award recognizes those who conduct exceptional research in anticipation of the future needs of the nation.
Pace's research focuses on freshwater and estuarine ecosystems, studying streams, rivers, lakes, and reservoirs to test ecological questions. His lab's current research projects include resilience of ecosystems, algal blooms and the trajectory of aquatic ecosystems, dissolved organic matter: impacts on aquatic ecosystem processes, and freshwater salinization.
"This wonderful gift from Dr. Bhakta and Sushama Rath helps to encourage the great research at UVA by our talented graduate students and lead to innovations," Ram Ramasubramanian, the Vice President for Research, said. "Spencer Tassone's research on riverine heatwaves is important to all of us as we try to understand and mitigate the effects of extreme climate change."
Vice President for Research